LearnPro – WordPress Education Theme
LearnPro – WordPress Education Theme is a modern, elegant WordPress website theme designed and built exclusively for educational institutions such as University, College, School, Pre-school, Kindergarten as well as for other institutes providing Training, and Online Courses.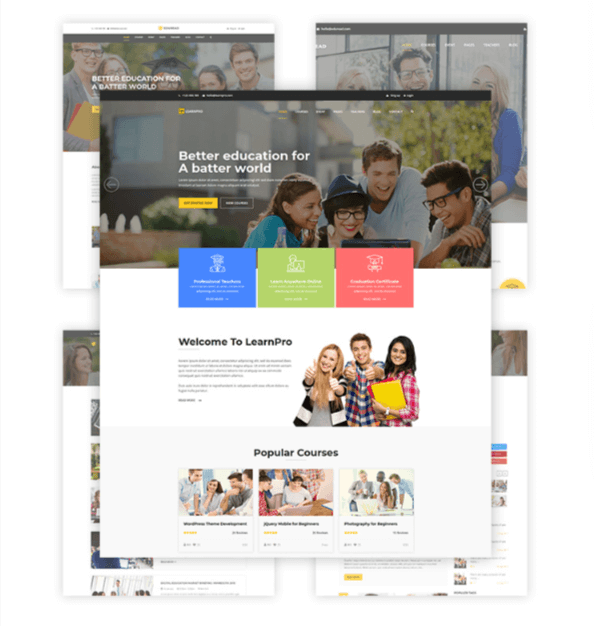 The WordPress Education Theme offers numerous stunning features for arranging and presenting different aspects of an academy website. With interactive UI elements the options, such as Introductory or Welcome Message, Course Details, Course Registration, Testimonials, Events and Stories, News and Publications, Video Intro, Teachers Panel, Contact Information and Guardian Reviews etc., are nicely portrayed. Additionally, the Blog Posts lets people publish and share experiences with the world to a great extent . The modern Contact Form allows the students, teachers, guardians, employees, officials as well as the authority to keep in touch with the institution. Finally, with the integration of a shop to the website, study materials, toys and other essentials can be sold and distributed among the individuals.
LearnPro – WordPress Education Theme Key Features
The education website theme has got all the essential features for an educational institution from playschools, kindergartens, and nurseries to higher schools, colleges, universities. Different training academies as well online course providers can also create their institutional websites with the useful features included to LearnPro. The features can be utilized in the most comprehensive manner to create an education WordPress website to draw the largest amount of traffic.
1. Unique Design with 25+ Pages along with 4 Different Homepage Variations: All the modern trending ideas in the education arena have been incorporated in the LearnPro in an outstanding manner leading to a unique design for creating an educative website. The wordPress theme comes with Four Homepage Variants. However, more than Twenty Five uniquely designed pages can be produced with LearnPro. With these extensive development options, empowered by other UI design elements, the LearnPro – WordPress Education Theme just stands out.

2. Easy to Customize as Built with Visual Composer: The popular drag and drop page builder Visual Composer has been integrated and used while creating LearnPro. The builder can be further utilized in your education website development project. The WordPress plugin allows customization of the theme elements with less effort. Even a person with little or no coding knowledge can extend theme features and develop the WordPress site with the Visual Composer integrated into LearnPro.

3. Powerful Presentation with Integrated Slider Revolution: You can present your courses, news and events or any other significant issues with Slider Revolution, the most sophisticated slider out there. The plugin is integrated into the LearnPro – WordPress Education Theme, allowing quick and easy customization of slides. The features presented with the Revolution yield an eye-catching and the most convincing presentation.

4. Unlimited Color Variations: LearnPro WordPress theme offers unlimited color schemes for your education website. You can create variations of your WordPress site according to your color preferences. The multi-color theme feature will allow you to make the different sections of your pages more attractive and user-friendly.

5. Retina Ready and Cross-browser Compatible with Responsive Design: LearnPro is optimized for different retina screens, making your website fit and look great in different sized displays like smartphones, tablets, personal computers, notebooks, laptops, and macbooks. Different web browsers are also compatible with the website built with the LearnPro – WordPrss Education Theme. Consequently, the website for the educational institution inevitably reaches out to the maximum audience.

6. Easy Setup with Demo Content: The WordPress Theme with a demo education website can be installed in a click. This allows a quick, convenient way of producing demo pages as well as other features if you don't want to kick-start your education website project manually from the beginning. This definitely saves a lot of work time if you go for the One-Click Demo Install offered by the LearnPro- WordPress Education Theme.

7. Flexible Connectivity with Integrated Contact Form: The popular WordPress plugin Contact Form 7 has been installed in LearnPro to ensure fluent connectivity. Different forms with custom fields can be produced effectively with CF7. As a result, the maximum engagement of the audience with your education website is assured.

8. Search Engine Friendly Elements: The LearnPro theme elements are coded with the search engine metrics in mind. So, the website contents created with LearnPro – WordPress Education Theme is easily indexed by all the popular search engines. This leads to the maximum amount of traffic growing regularly to your education site.

9. Well Documented Source Files: The source files of LearnPro WordPress theme are well documented and cleanly coded, so as to allow you to easily locate the theme elements and quickly edit and customize the theme features. Therefore, the features and functionalities of your education website can be extended to suit your purpose.

10. Translation Ready with Loco Translate and WPML: The LearnPro theme is made Translation Ready with Loco Translate and WPML WordPress plugins. The Loco Translate is used for single language websites while multi-language websites can be maintained with WPML. So, the website developed with LearnPro WordPress Education Theme is best suited for the audience from diverse language origins.
LearnPro – WordPress Education Theme
Features at a Glance
ü Powered by +WordPress 4.2
ü Built-in Visual Composer
ü Unlimited Color Schemes
ü Unique Elegant Design
ü Integrated Revolution Slider
ü Easy Setup with Demo Content.
ü Animated Elements
ü Blog Single Page
ü Retina Ready
ü Responsive Layout
ü Single Page Project
ü jQuery Enhanced
ü Contact Form 7
ü Very Clearly Documented (Step by Step)
ü Support 24/7
LearnPro – WordPress Education Theme : Support
LearnPro – WordPress Education Theme is regularly updated to cope up with the current trend. 24/7 customer support is guaranteed with the purchase of the theme as well. Thus, LearnPro genuinely promises the maximum user-satisfaction.
Looking for a Different Theme for Your Education Website?
Would you mind taking time to explore our other premium education themes and templates? Eduwise, Ecostudy, Eduzoon, Eduvison, EduRead, and EduLight are a few of our education theme development projects. Take a look at these exquisite WordPress themes and website templates with striking features exclusively aimed at developing educational websites for Universities, Colleges, and Schools as well as other institutes providing educational or training services. Also, would you care to check out our selections of the Top10 WordPress Themes for Education?