Activitiz – HTML5 Non-profit Landing Page Template is a modern realistic website template exclusively usable for any types of non-profit charity, fund-raising, or awareness campaigns. The template offers essential features for creating Events and Causes as well as for incorporating other related contents to help promote your non-profit campaigns. Besides, there are the all-encompassing ranges of template components integrated craft-fully to arrange and showcase the very elements of a modern charity landing page. So, the website created with Activitiz – HTML5 Non-profit Landing Page Template is more sophisticated and engaging, only to take your charity campaign experience to next level.
Who Is This Responsive Landing Page Suitable For?
Activitiz is exclusively crafted to help promote non-profit Campaigns and Causes. So, the charity or fund-raising organizations, or authorities, can use this landing page template to create a website and set out their events and campaigns. In fact, with Activitiz – HTML5 Non-profit Landing Page Template, you are best resourced and more organized to deal with charity activities, especially with those promising features and functionalities integrated distinguishably in a four-layout-versions package. So, you can change your existing non-profit website or launch a new one with Activitz, the best charity landing page developed by EcologyTheme.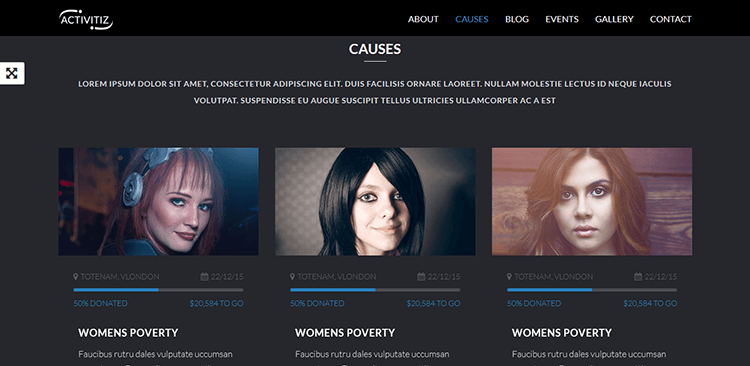 Activitiz – HTML5 Non-profit Landing Page Template Convincing Features
Activitiz – HTML5 Non-profit Landing Page Template comes with diverse compelling features and functionalities to effectively create a charity website that is more communicative and intuitive in terms of usability and accessibility. The modern trending elements that the template is comprised of are even more comprehensive with eye-catching UI animation effects and transitions. Thus, website created with Activitiz – HTML5 Non-profit Landing Page Template offers the visitors with a better User Experience, ensuring the maximum level of connectivity and engagement.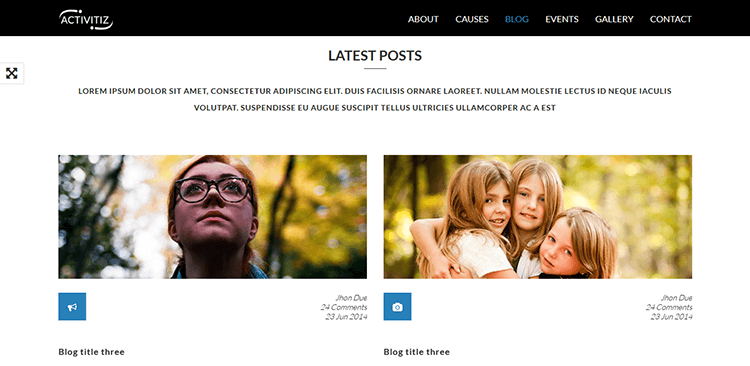 Responsive Bootstrap Non-profit Landing Page – Activitiz is crafted in the latest version of front-end design framework Bootstrap so as to allow the website created with it to be mobile responsive. In fact, Bootstrap responsive feature offers cross-device and cross-browser compatibility to ensure an uniformed appearance of the website in different size screens like those of desktops, laptops, tablets, smartphones and other platforms as well as in various web browsers like Firefox, Chrome, Internet Explorer, Safari etc. and in their different versions. In the mobile-first age of web technology, it is essentially important to make your website contents accessible to different platforms to ensure the maximum level of reachability and engagement. Website created with Activitiz – HTML5 Non-profit Landing Page Template is highly responsive to these cross-platforms, allowing your non-profit charity, fund-raising, causes and awareness campaign to grow and flourish.
Elegant Design with Four Layout Variation and Eight Color Schemes– Activitiz comes with four distinguished layouts which are crafted with the modern aesthetic design trend in mind. The two variants with the parallax effect and solid color background imply the latest web design trend. The other two variants of Activitiz – HTML5 Non-profit Landing Page Template offer additional functionality with Subscription and Sign-Up form exclusively useful for Non-profit Charity websites. Additionally, there are eight different color schemes available for each type of layouts. However, the sophisticated template components are enriched with essential Non-profit website elements that are styled up with attractive transition and animation effects. So, the visitors are more intuitive of the website contents, resulting in a better user-experience in terms of accessibility and usability.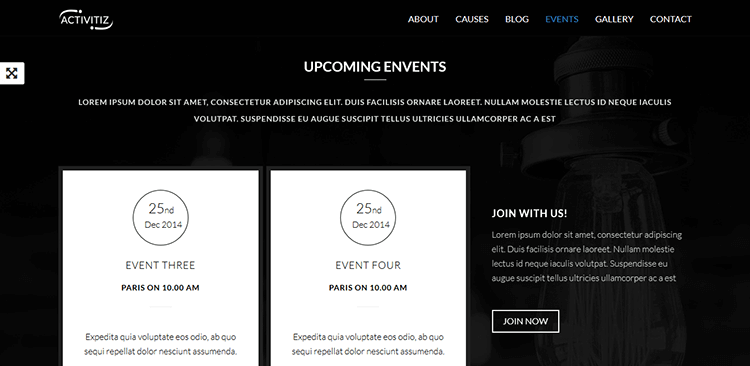 Single-page Template Best Suited for Charity Website – Activitiz is a modern one-pager containing all the essential Charity website elements in a single-page incorporation. The key components – such as impressive image banner with clean typography, comprehensive About section with lovely icons and images, info-graphic accumulation of Causes, maneuvering Latest Post integration, detailed Events showcase, categorized Image Gallery, Sliding Sponsors lists, Contact Section with Maps and Contact Form integration – are accumulated in a one-page layout. Thus, the latest trend of integrating elements in a single page layout and allowing the users with a flexible accessibility in terms of UX is effectively implemented with Activitiz – Non-profit Landing Page Template.
Well Documented W3C Valid Source Files – The Activitiz source files are carefully documented so that the developers can edit or customize the template according to their requirements. The files are semantically coded and arranged with comments, allowing the developer to easily locate the required elements and make the changes accordingly. Moreover, the files are tested several times to find out potential bugs and errors and finally validated in the most popular web files validation service W3C Consortium to ensure the maximum web standard. So the website built with Activitiz – HTML5 Non-profit Landing Page Template is more developer friendly when it comes to customizing or extending the template features in order to create a well-balanced, personalized charity website.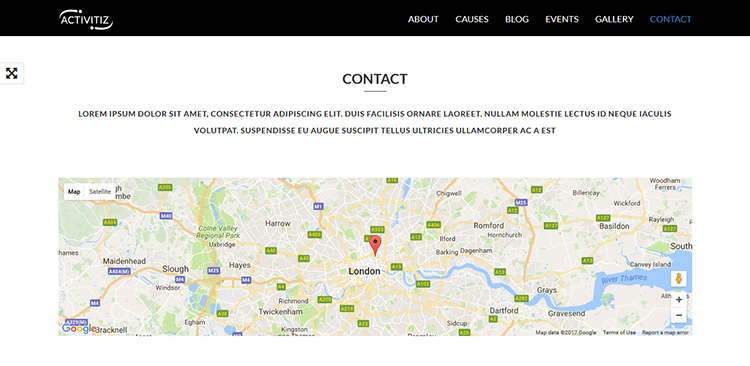 Search Engine Friendly – It is utterly important for your charity or non-profit website to be crawled and indexed by popular search engines. Special attention was given while crafting the Activitz elements with a view to ensuring the maximum SEO tricks and technics. Thus, the Activitiz – HTML5 Non-profit Landing Page Template elements and contents are highly optimized for search engines like Google, Yahoo!, and Bing etc. So, your campaigns and other website contents are more likely to appear in SERPs, resulting in the greater amount of coverage, reachability and sharing.
Socially Communicative and Engaging – All the popular social networks and other communication tools are integrated in Activitiz – HTML5 Non-profit Landing Page Template. Thus, the maximum level of social communication and engagement is ensured for your Non-profit charity programs and campaigns.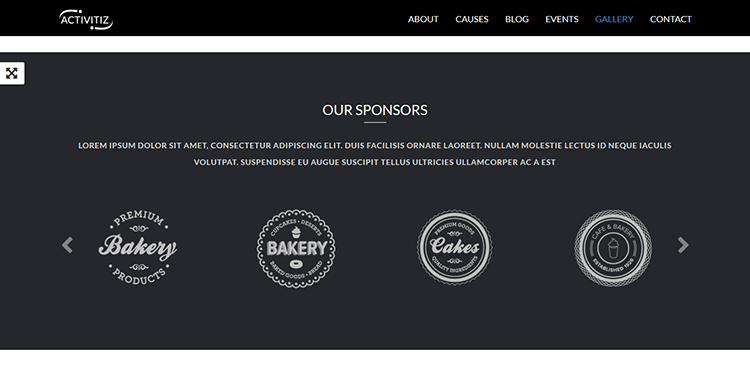 At Lot More – Activitiz – HTML5 Non-profit Landing Page Template comes with several other compelling features for you to utilize in your Charity, Fund Raising, or other non-profit campaign running website. So, create your website with Activiz and enjoy the web publishing and campaigning experience to the fullest.
Activitiz Features at a Glance
Fully Responsive Design
Bootstrap 3.3.1
Parallax effect
4 Layout Version
8 color schemes
On Scroll animation
Used Google Fonts
W3C Valid Markup
Working MailChimp Form
Working Contact Form
Well Documented
Integrated Blog Posts
100% Customizable
Legible Typography
Cross-browser Compatible
SEO Optimized Elements and Contents
Integrated Google Maps
Credits
Photos

PhotoDune – http://photodune.com/
The images and videos used on the demo site are for demonstration purposes only and are not included in the download file.
Resources